Introduction
A. R. Industries
, is a large and independent manufacturing firm specialized in various assembly of machine and engine components. We have come a long way as a reliable
manufacturer, exporter and supplier
of
Aesculap External Clamps, AO Open Clamps, Charnley Compression Clamps, Distractor Clamp, Double Pin Clamps, LRS Fixator Clamps, Spine Connecting Rod, Orthopedic Connecting Rod,
etc. These products are duly manufactured in compliance with national and international standards of quality. Further, our successful growth in the market is greatly attributed to innovation and advanced machines. This together with company's exceptional skills has helped us to maintain absolute accuracy in the production process. We are able to develop and deliver zero defects range to the customers. Furthermore, our competent team of professionals has assisted us to meet company desired turnover within the promised period of time.
Introduction To Our Quality Process
We are committed to our overall aim of achieving total client satisfaction by offering high quality range of Clamps and Connecting Rod to medical industry. For consistency in our product quality, we follow Quality Control Process, which pursue the following objectives:
To understand and satisfy the needs of our customers
To continually improve the business process and develop the skills of our employees
To quality check every stage of production, warehousing and packaging stage
To test every finished product on certain parameters, ensuring maximum customer satisfaction
Our Products
We are manufacturing, exporting and supplying the following products:
Clamps

Aesculap External Clamps
AO Open Clamps
Charnley Compression Clamps
Distractor Clamp
Double Pin Clamps
LRS Fixator Clamps
Ordinary Small Single Pin Clamp
Orthopedic AO Single Pin Clamps
Orthopedic Clamps
Orthopedic LRS End Clamps
Orthopedic Surgical Clamps
Single Pin Clamps
Single Pin Surgical Clamps
Small Aesculap Clamps
Surgical Aesculap Clamp
Surgical Clamps
Surgical LRS Center Clamps
T Clamps
Tubular Clamps

Connecting Rod

Spine Connecting Rod
Orthopedic Connecting Rod
Our Infrastructure Facility
We are backed with our infrastructure facility, which enable us in meeting bulk demand of the customers within set period of time. This unit is divided into various small sections that assist us in managing our business affairs without any hurdle. Apart from this, the modern machines and advanced tools are installed in our unit so that product making can be done without interruption and every range can be developed in various specifications and configurations.
Why Choose Us?
Competitive prices
Creating lasting relationships of trust with customers
Long years of history
Rich understanding of technical needs of customers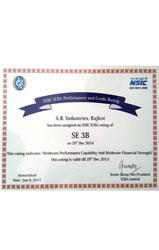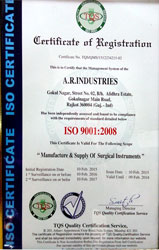 Read More